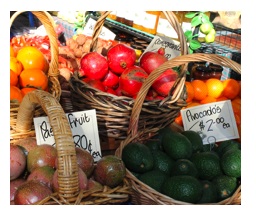 If you want all the local gossip, then all you need to do is to get yourself down to your local producers or farmers market to find out who's who and what's what! So that's exactly what I did recently to catch up with all that's been happening in the Southern Highlands of NSW.
I decided to enlist the assistance of a local who is definitely "in the know" when it comes to Highland matters: Jill Dyson, from Food Path Culinary Tours with a Difference. We meet at the Bowral Markets, held every second Saturday of the month. It's a meeting point for friends, family and neighbours with pet pooches, all coming together to purchase goodies from local growers including the proverbial butcher, baker and candle maker! I am not disappointed; every industry is represented and Jill is full of local advice, and she deliciously offers a few secrets along the way.
Am I prompting? ….. NEVER!!
Secret No. 1: Not all producers are truly local
The first secret comes out at the Cuttaway Creek Berry Farm stall. Jill points out that they cannot grow enough fruit to meet demand for their products so they have to supplement with fruit grown in other regions. They pride themselves on sourcing only Australian fruit, no imports except for cranberries. Australia just doesn't grow enough cranberries. The sales person from Cuttaway is a visiting WOOFer and she offers us some samples. The raspberry sauce is to die for, the jams amazingly fresh and zesty, and the raspberry vinegar will transform a rocket salad into a heavenly experience. Raspberries are grown perfectly in the cooler climate of the Southern Highlands, making the jams and sauces rich and flavoursome. Montrose Berry Farm is another local that offers farmgate sales only because their supply is limited. To help with cashflow, Montrose also offer their rural setting and dining hall for weddings and functions.
Secret No. 2: Natural Farming Saves Money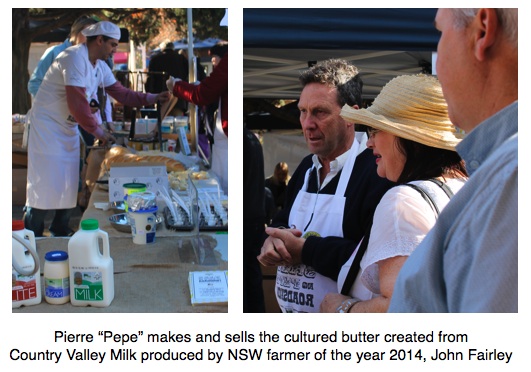 We stop for a chat with the much admired dairy farmer, John Fairley from Country Valley Milk. John was declared NSW Farmer of the Year for all the right reasons. His farm raises cows in Picton and has been in the family for a number of generations. John tells us of his struggle to keep up with the rising cost of chemical farming, so he sought out his grandfather's old natural farming methods, not so much for altruistic reasons but more as a way of saving money. He's a humble and likeable bloke and it's easy to see his heart as he explains his desire to "close the loop" of nutrients. He tells us how he was urged to use compost generated from the municipal green waste collection that he now spreads on his pasture to raise and replace nutrient levels. Nutrients are consumed by the cows as they graze on the pasture, then lost as the milk is sent into the city, so he felt it was only sensible to return the nutrient to the ground with the locally sourced and produced compost.
He had teamed up with Pierre Issa from Pepe Saya Butter and Alex Olsson from Olssons Salt for the "Salt and Pepe Roadshow". Pepe, as he is called, makes his hand churned cultured butter and other dairy products from the milk he gets from John and the butter is then finished with Olssons salt. The two are passionate about their products, but see for yourself with this video featuring Pepe showing you the process and passion behind the product.
This brings me to …
Secret No. 3: Some Products Start Off As Animal Fodder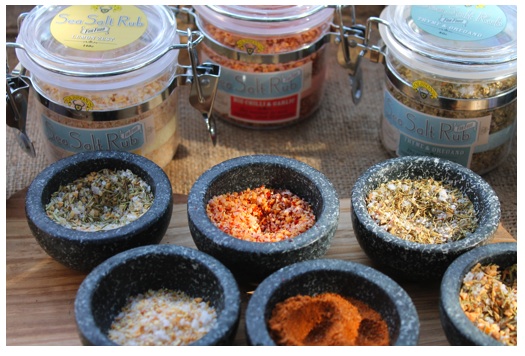 When Olssons Salt is not being coupled with Pepe's creamy butter, it takes on a whole new form with some salt rubs. A range of herbs are dried and mixed with the salt to quickly transform a meal into the most wonderful flavoursome culinary dish with minimal effort. But it didn't start out that way.
Olssons Salt started after numerous requests from graziers for someone to produce supplements to meet the nutritional needs of their sheep and cattle during the severe drought that started in 1947 and continued until 1952. The first salt block was produced in 1949 in a shed just west of Parramatta. It was the first pressed salt block produced in Australia to contain a range of minerals and was the forerunner of all the multi-nutrient blocks produced in Australia from that time onwards.
I choose the Macrobiotic Sea Salt because of it's high concentration of natural minerals from sea water collected on The Great Barrier Reef with no refinements. You can literally taste the sea in this salt.
Secret No. 4: Seed Potatoes are Not Seeds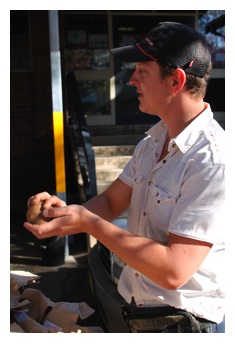 The group is invited to chat next with a Robertson potato farmer about his spuds. The range of varieties is fun and extensive. I want to try them all, but I restrain myself to a kilo each of boiling potatoes (Otway Red) and roasting potatoes (Necta). Other varieties include Pink Kiss, Dutch Creme, Pink Fir Apple, Kifler and many more. The different varieties are chosen for flavour, texture and preservation of heritage stocks. While the potatoes are grown in the Highlands area, the seed potatoes are collected once a year from Tasmania.
Potato growers eagerly converge in Tassie to make their annual selection, determine breeding rights and search for newly emerging varieties. There are over 5000 varieties grown in some parts of the world but our supermarkets generally stock only about 4 or 5 different potatoes, if you're lucky. Many heritage potato varieties came close to extinction, so one Tasmanian tissue culture company set out to preserve these old gems.
TasSeed promotes fresh market varieties of potatoes by producing mini-tubers derived from potato cultures. These plantlets are grown in test-tubes in a room where a sophisticated computer system controls the environment and regulates fluorescent grow lights, including periods of light and dark. The plantlets are vulnerable to contamination, and therefore have to be taken care of through a highly intensive process of sterilisation. The cost of failure is high, as importing lost varieties can cost between US$3,500-$5,500. When potato growers purchase "seed" potatoes they are actually buying a potato that has grown on for about 3 generations (not really a seed as we know it) to reach a size that is viable for sale to the public.
Secret No. 5: Moonlightling Locals
I'm delighted to hear about the mission to promote local produce by those in other businesses in the area. To combat restrictions from limiting franchise agreements during the week, a family of bakers branches out and bakes breads that they love to eat, featuring all local ingredients including home grown herbs to make pesto french sticks, herb ciabattas and even highland potatoes in their potato and leek loaves. Their range is seasonal and exciting. Again, I want to try them all!
Secret No. 6: Seasonal Surprizes
I can't go past the chilli man, Anthony from Goulburn. He's a chatty and friendly guy who looks like he has plenty of stories to tell. He tells us about his horseradish that's going to be available at the market from June. It's dug up and pickled every winter. He's unsure how it will turn out this year with such a dry summer. We'll have to wait and see.
The other seasonal surprize that is worth waiting for is Sutton Forest Olives ligurian style olives. Kym, the owner and producer, informs us that she doesn't use the usual salting and soaking method used by traditional olive growers but prefers the brine curing process with spices and bay leaves similar to the method used in northern Italy. They specialize in growing varieties of Tuscan origin including Corregiola, Frantoio, Penduloino and Leccino. These are chosen because of their high oil content and suitability for the cooler highland climate. While the olive oils are available at the market, we will have to wait for the olives. Harvest is in May, before the frost comes, and then olives are cured in a brine solution for at least 6 months. A good excuse to come back again.
Secret No. 7: Not Just for Markets
I'm pleasantly surprised to see that some local producers have their pickes, jams, sauces, cheeses, milks and even gelato available at some of the retailers in the area. I spotted a few familiar items later when I walked through the streets of Bowral and noticed that products can also be purchased at Kiama. So if you can't make it to the markets once a month and you're desperate to get some more local goods, then you won't be disappointed.
What I bought:
(It was the day before Mothers' Day so I figured I was allowed a few treats, that's my justification!!!)
Cuttaway Creek jams: Rhubarb & ginger, raspberry, marmalade
Raspberry wine vinegar
Li-Sun mushrooms variety pack: shitake, oyster, enoki, black ear, portabella
Hand crafted cultured butter, mascapone and creme friache
Macrobiotic Sea Salt
Bread: Highland potato and leek loaf, herb foccacia, pesto and tomato pullapart
Cajun chilli sauce; Chilli & lime salsa
A selection of City Biscuits: lemon curd, passionfruit curd, classic caramal, chocolate raspberry tart
What I made with the produce:
Easy chilli con carne made from a jar of chilli & lime salsa, beans and Sutton Forest beef
Baked Highland potatoes with creme fresh and chives
Sauted mushrooms with cultured butter
Halved cherry tomatoes sprinkled with macrobiotic sea salt
Rocket salad with Small Cow Farm blue cheese and raspberry vinegar
Fresh dates filled with mascapone
Jill Dyson from Food Path Culinary Tours with a Difference, runs some fabulous tours of local farms, markets and local businesses in the Southern Highlands. The market tour is held every second Saturday of the month and costs $30 per person.