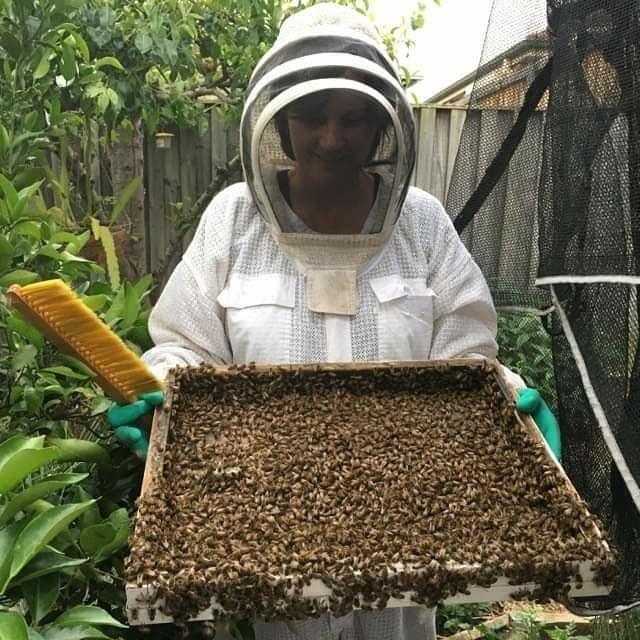 Have you ever wondered if you could put a bee hive in your backyard but don't know where to start or how to go about it?
I wanted to put some bees in the garden for quite some time before I did.
But look at me now.
If you want to know how I did it … read on.
Try before you buy
While I wouldn't call myself a Pro by any stretch of the imagination, I've learnt a thing or 2 from the best mentor and you can do similarly. I don't own my hives, I just host the hives on my property. That way I get all the benefits without the responsibility or the expense of setting up a new hobby. My hives are owned by a local beekeeper who comes in and manages the hives. I'm his off-sider when it comes to inspections, so I get to help and learn along the way.
How to learn about bee keeping
The best way to learn about bee keeping is to be mentored by a licensed bee keeper. When you learn through mentoring from a bee keeper, you get hands-on experience with inspections and harvesting, so you learn a lot. And there is a lot to learn. I did do a natural beekeeping course a few years ago but decided that it was too much for me to handle on my own. This arrangement has worked well for both of us. It's a win-win situation. Check out your local bee keeping associations to find one who lives close to you. You could approach them and see if they are willing to do the same for you.
Community connections
I found my bee keeper through our local community garden, and he has about 20 hives in home gardens scattered around the local area. The equipment and honey all belong to the community garden so I don't have to pay for anything, but I don't get the honey either. I do get a tub or 2 of honey as a "rent fee" for keeping the hives in my garden and that's enough honey to feed my family. The remainder of the honey is distributed to financial community garden members and some is sold through a local gourmet deli to help finance the running of the community garden.
Local raw honey
Bees tend to travel about 1 km from their hive so you get a real local honey, with the characteristics of the flowers blooming near it. The honey produced by each hive is so different because the bees forage on different flora. Some honey is rich and dark, my honey has been lighter and sweeter.
Benefits of backyard bee keeping
There are many benefits of having a couple of bee hives in my backyard. How many of these could you benefit from?
a tub of honey for as "rent" payment for hosting the hives
better pollination in my garden
beekeeping without outlaying money for boxes/suits/equipment
learning about bee keeping through mentoring from a licensed bee keeper.
gives me a chance to try before I buy and see if it really is something that I want to do.
sense of belonging to the community garden without having a plot at the site.
supporting my local community by supplying honey for locals and funds for the community garden
Watch my raw honey being harvested on instagram or facebook.