Want a sneak peek into some of the new and interesting stuff soon to be launched for the home gardener? Last week I went along to the Green Expo Sydney (GES), a trade show for those working in the Nursery and Garden Industry. I thought I'd share my top 6 gardening goodies with you so you can keep an eye out for them when they arrive in the shops.
Blueberry Burst
Australian bred blueberry plants for growing in pots. If you live in an apartment and want fresh blueberries in a pot then this is the one for you. The plant has a compact bushy growth habit and loves acidic soil. Grow it in a mix of 1 part camellia/azalea potting mix to 1 part course pinebark, this will keep the soil moist but not wet (it doesn't like wet feet/roots). Feed it with a little bit of compost, then rock dust or blood and bone on a monthly basis to keep it fruiting well. The size of the fruit on these blueberries is incredible! They are almost the size of a $1 coin and the best thing is that they fruit in winter, when other blueberries aren't even thinking about flowers yet. It's a low chill blueberry variety, meaning that you can grow it pretty well anywhere.
On-Guard Possum & Pest Protection Range
Available in Bunnings hardware stores and selected nurseries.
I'm always asked how to keep possums off the veggie garden or fruit trees. Here's your solution …. the "On-Guard" range from Brunnings offers poison free, pest protection from possums using a roll of plastic spiked netting. Just lay it around the edge of the garden, fix it to tree branches or balcony railings to keep possums away. It also works to stop dogs and cats digging too. Other things I liked in the range included fence spikes, copper tape for snail and slug control, sonic cat and dog repellent.
Micro-greens made easy
Mr Fothergills have a new range of micro-green seeds for growing in shallow trays. If you want some funky growing trays to keep them in, then watch out for Elho's bright coloured micro-green growing trays with clear lids. These are terrific for growing micro-greens indoors without the mess. Might have to do a follow up post to show you how to grow your own micro-greens. Stay tuned!
Eco-oil "HIPPO enhanced"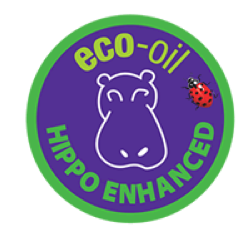 Okay … what the …. HIPPO??? Eco-oil has been a popular choice among organic gardeners for safer control of soft insects like aphids, mites, whitefly, scale and leafminer because it's a botanical oil (made from plants) rather than a mineral or petroleum oil.
The team at Organic Crop Protectants has "enhanced" its popular eco-oil with HIPPO – Herbivore Induced Plant Protection Odour. A brief translation means that plants often emit certain volatile organic compounds (chemicals, hormones, gases or smells) when they're attacked by some pest insects. This is a natural response by the plant to attract a predatory insect (e.g. ladybird, lacewings, hoverflies and parasitic wasps) that will then protect the plant from the pest attack. I particularly like this for those times when my own attempts at attracting beneficials into the garden have failed and some control is needed as a last resort. Spraying the HIPPO enhanced product increases the number of predators so that you can let nature take over the job of pest control quicker.
Certified Organic product.
Ultraboost+6
The trend in horticultural circles now is to move away from heavy applications of fertiliser and replacing it with biological techniques instead to encourage plant growth. Many of our soils have minerals trapped making them unavailable for plants to take up, so biological methods are now helping to release them. Ultraboost+6 is a formulation containing safe micro-organisms that stimulate plants naturally and work in the soil to release nutrients for plant growth and health. These microbes also do the job of breaking down harmful pathogens in the soil.
SITA Organics
SITA's resource recovery program is particularly close to me, in more ways than one, since one of their operations is only round the corner from me, in the same local government area. SITA is responsible for our green waste kerbside collection and turning it into a resource for our gardens. This is all about "closing the loop" on organic waste and making composted potting mixes and mulches available for a variety of garden applications as well as commercial veggie production. Materials are processed to Australian standards to ensure quality control and provide weed and pathogen free garden products. Stay tuned for the "Garden to Garden" program coming soon to a council near you. Participants of this program get access to free compost for their garden in exchange for their household waste. It's a winner!