Whether you love them or loathe them, the big box hardware stores are here to stay and they want you to buy their stuff. So when I was invited to the Bunnings Expo to see their Spring 2017 releases, I thought I'd check it out for myself. The verdict: some things are great, some things are ordinary and some things are just plain disastrous. 
No matter if yours is a veggie patch or a sensory garden or if you just want to play around with some quirky plants, then Bunnings has plenty to try and entice you this spring.
Colour
Azaleas are bigger and brighter than ever, as are the daisy plants on offer. Hybrid Osteospermum and Argyranthemum have more compact form for smaller gardens and even more choice of colours. How many shades of pink can there be? Fifty … apparently.
Callas are so big and lush that they almost look fake.
A vibrant Kalanchoe 'Tequila Sunrise' is hard to go passed without a gasp of delight.
The new breed of large and colourful Petunias are more compact and great for pots without getting long and lanky as they age.
Primulas have a fabulous range of colour and form including double (or rose shape) flowers and the frangipani lookalike.
Value Bulk Trays with 40 seedlings for less than $20 makes a mass flower display in your garden much more affordable now too.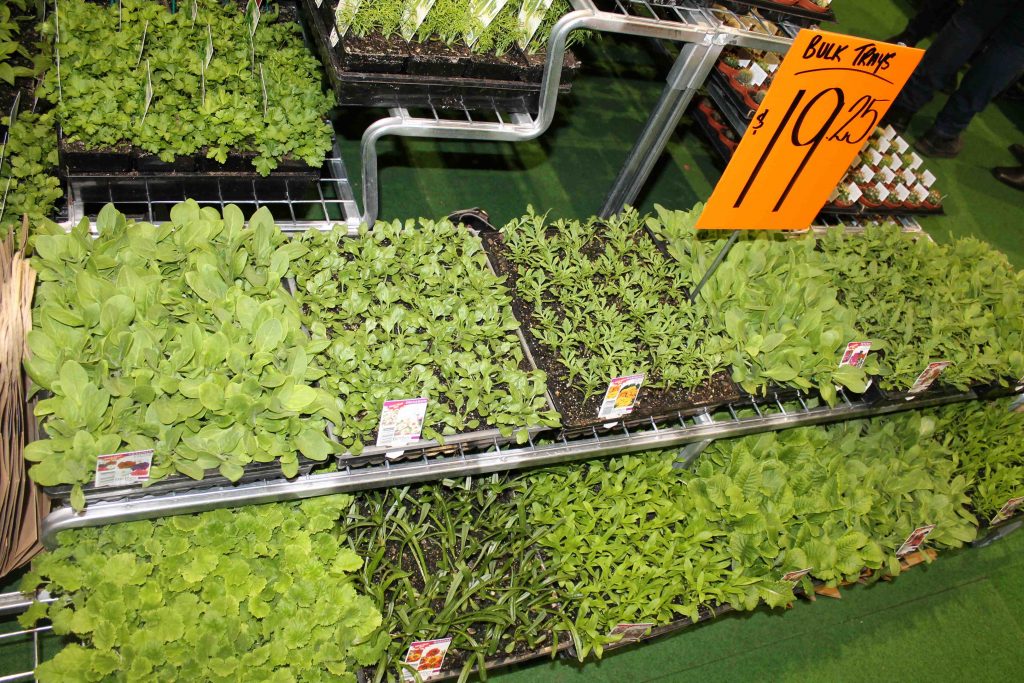 If you're not into planting your own, then Bunnings has done the hard work for you with Table Toppers – potted plants in full bloom arriving in a decorative pot ready to sit in the middle of your coffee table – instead of a vase of cut flowers. They're big, showy and seasonal and they're ready to go! I'm not so sure the local retail florists will be quite so keen to see these, since they will be a competitively priced gift against a bunch of flowers.
Edibles
Tomatoes and chillies are still everyone's favourite edible plant to grow at home, so it seems, with all the growers getting on board with newer 'improved' varieties and expanding the number of varieties on offer.
Look out for mixed colours, stripes, funny shapes and more choice than ever before at the local nursery. Floriana have advanced veggie plants to get you headed for success without the worry of establishing little seedlings. Look for Tomatoes – Pineapple, Giant Tree, Siberian; Chillies of the world – Trinidad, Africa, Australia; Capsicum – Mad Hatter, Candy Cane and plenty more.
There's a huge range of herbs on offer for the home gardener, I even spotted some Borage in a 100mm pot. The growers assure me that the edible ranges are mostly treated with organic pesticides and only when needed, so you can buy your seedlings from the nursery with confidence that they won't be doused with chemicals.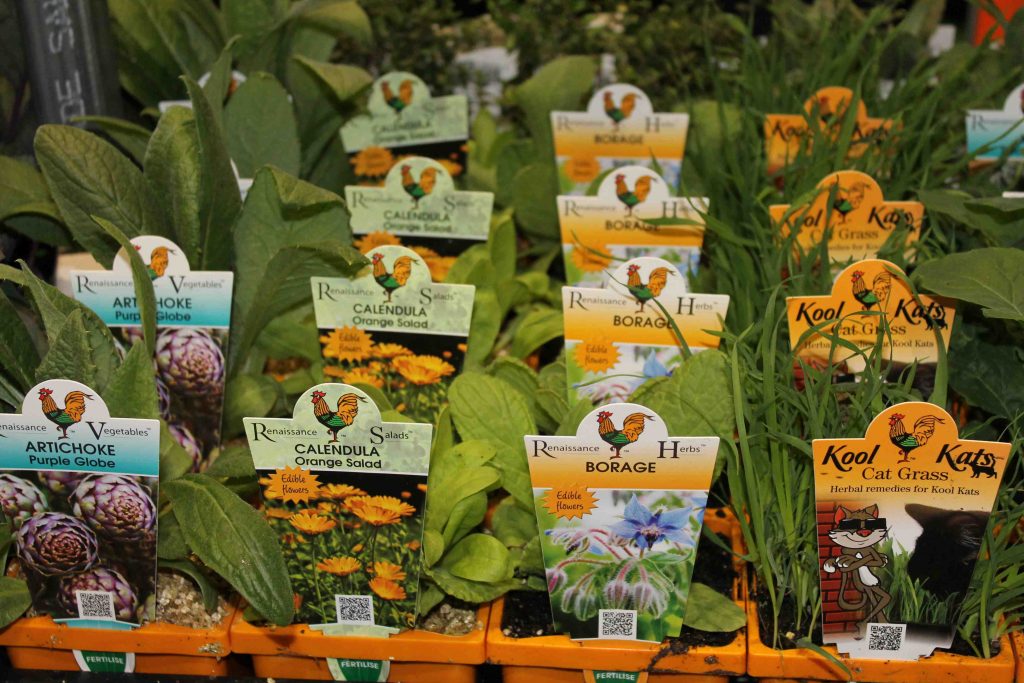 Bunnings has a good bush food range to encourage us to plant native species and enjoy the fruit they produce. Edible hedges can have berries to make into jams or leaves to make into tea or flavouring. Look for Lemon or Aniseed Myrtle, Davidson Plums and Lilly Pilly among others.
Touch
Sun Kisses range of Lambs Ears Stachys byzantina 'Moonlight Velvet' is a bigger form with a lovely soft feel.
Helichrysum 'Licorice Plant' is also a good choice for a low spreading shrub with silver furry foliage too.
Good for drier areas.
Smell
How many lavenders can we handle? Apparently never enough! There's a different variety of Lavender every season. Always reminiscent of old times and grandma's drawers. This season we can expect to see the world's first ever double Lavender, bred by an Aussie grower. Lavish Lavenders have a flower that the horticulturists define as a 'compound cymeous spike' – a completely new characteristic to the Lavandula Stoechas range. Lavender Fairy Wings have an even bigger "wing" on the tip of the flowers, and there are a some new colours added to the range.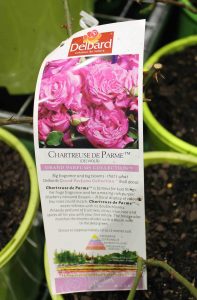 Delbard Roses GRAND PARFUMS COLLECTION™ are full of romance, perfume and old rose charm, each rose has an intense individual perfume along with beautiful colour and form. It's nice to see some scent coming back in the rose collections on offer at Bunnings this year.
Grafted or Not?
There's a move towards non-grafted plants becoming more available. This means you won't be plagued by rotten suckers coming up all over the yard, even years after a plant may have died or been removed.
Delbard Roses are non-grafted plants with the vigour and disease resistance of others. Even old popular varieties like Mr Lincoln, Iceberg and Friesa have now been grown without grafting. It is suggested that they are better shaped plants with better symmetry and proportion. the grower maintains that grafting was good for cooler European climates in the past, but Aussie conditions don't require this treatment for disease resistance.
I spotted a grafted Italian Sweet Basil by Nellie Kelly but I'm not convinced that the price premium will be worth it.
Nellie Kelly blueberry (Sunshine Blue) is a good choice for pots or small gardens, producing large berries and high volumes of fruit. Perhaps a good rival to the alternative Blueberry Burst that failed to deliver on the promises it claimed.
Trendy or Gimmicky
Succulents and terrariums continues to be the strong trend and Bunnings will have more to come this Spring.
Retro Succulents are presented in old fashioned style tins, good for reminiscence.
Terrariums can be put together using a larger range of tiny plants including Ferns, Freckle Face (Hypoestes) and plenty of other shapes and forms for tight spaces and containers.
The MiPlant planter box is a good concept but I think this year's Fathers' Day promotion using herbs planted into this small flat pot might fail to deliver. The herbs will quickly outgrow the planter and nutrient deficiencies will make it look pretty scrappy really soon.
Home Hydroponics In Development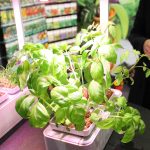 Mr Fothergills and Seasol International are developing a Home Hydro Kit for growing small plants in your kitchen, good for a couple of lazy herbs. There's still a bit of work to be done to perfect this idea but it's due for realise before Christmas.
What's Good
Kalanchoe 'Tequila Sunrise' has beautiful colour and easy to grow
Bulk seedling trays offer great value at less than $20
Advanced tomatoes & chillies by Floriana save time
Sensory plants are good for smell & touch – Licorice Plant and Sun Kisses 'Moonlight Velvet'
Aniseed Myrtle hedge – great for licorice tea if you're a liquorice lover
Non-grafted plants take the worry out of suckers
Terrariums & Succulents are still fun to plant up
What's Ordinary … or perhaps let's just wait and see how they go
Strawberry Montana offers big flowers but many might be disappointed by the small fruit.
Pineberry – strawberries with a pineapple flavour does my head in.
Nellie Kelly Basil – not sure if the premium price for grafting will be worth the benefits
Table Toppers – yes, they're lovely but come on, Bunnings, are you going to take the market share from the small local retail florists now too?
What's Disastrous
Azaleas – They're the impulse buy at the counter, just like chocolate bars at the supermarket checkout. They look good for a season in Sydney, then they're dreadful for ever after. Don't get sucked in.
Some over-priced veggie seedlings in 100mm pots – 3 plants @$3.75 not good value. Grow them from seed instead.
MiPlant herb planter for Fathers Day – right idea, wrong size plants