It's a ritual for so many of us …. even an addiction for some. I border on the latter, for without my Saturday morning fix, my week is simply not complete. I'm talking about my weekly trip to the farmers' market, where I not only take in the produce but, equally, the atmosphere. I love to feast on this whole sensory experience. This is definitely how we were meant to consume.This is so much my ritual that I had to do the same when I recently visited San Francisco.
Even though I had no intention of cooking a meal in my hotel room while I was in SF, I still felt the urge to partake in my weekly ritual.
The Ferry Building farmers' market operates like all good local markets and will only give a stall to true local producers, not anyone on-selling product and preference is given to certified organic food and practices. It's all about soaking up the culture. It's the visual sensation of vegetables with vibrant colours, that were still in the ground less than 24 hours before. These are the vegetables that last in the pantry, that taste divine, that make a dish so appealing to eat that it will have your diners licking the plate and asking for more.
Heirloom tomatoes were there in various shades of red, orange, green, yellow and black. Some are striped, some are large round or oxheart shaped. Some are tiny currant sized juicy sweet morcels that squirt in your mouth as you chow down on them. These tomatoes are full of flavour and you can easily grow some in your own garden because not all farmers' markets sell them like this. I love a salad made from a mixture of colourful heirloom tomatoes simply served with a splash of olive oil and balsamic and maybe a few torn basil leaves to top it off. YUM!
And recipes abound at the Ferry Building marketplace. I bought a copy of their own cookbook that includes a history of the historic building and introduction of the markets. It features many of their local farming community so you get to put a name and a face to stall holders when you chat with them. It makes it all so much more personal.
The recipes are amazing, showcasing the regions finest produce. It's split into seasons so you can follow what is in and out of season. And if you can't follow a recipe there's even a couple of regular local chefs who whip up a dish every week at the markets for you to watch and sample.
The atmosphere is what always draws me to the markets. The unhurried chatter between farmers and consumers who focus on quality produce. It brings the city back in touch with the land, and reminds us that without it we cease to exist. So I join the crowd (being only mildly conspicuous with my camera) and sample the new seasons cherries, smell the lavender and chamomile herbs and grab an alfresco breakfast of organic coffee and fresh eggs.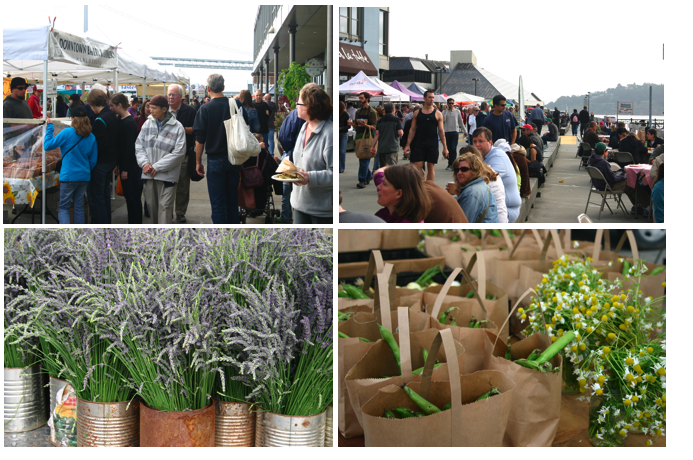 Yet a trip to the markets is not complete without a bunch flowers, so I finish my visit with stroll across the flower growers.