It was one of those meals that left a strong impression on me …. for all the right reasons.
I missed out on last year's inaugural Macarthur Producers Gastronomic Feast, so I made sure I didn't miss this years event for the Sydney Morning Herald's Good Food Month in October and got my tickets early for the 8 course degustation meal. (Can you really eat 8 courses in one sitting?) Anyway, I'm always banging on about locally grown food and supporting local producers, so I was excited to see what some our local chefs could do with great materials. I wasn't disappointed.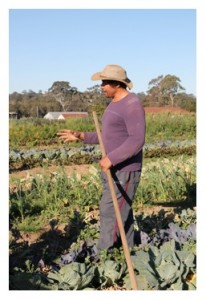 One of the producers that featured heavily on the night was Field to Feast Farm in Bringelly. I love their traditional Tongan approach to farming which produces tasty, nutrient dense vegetables without using any irrigation or pesticides. I've taken a number of urban gardener's out to see Hapi & Cath's farm to demonstrate what can be grown, seemingly against the odds. Cath, the "farmers wife" as she calls herself, told me prior to the night that the chef had been out and had eaten his way around the farm, sampling everything ready for harvest. This is something that too few suburban chefs do; I think if this happened more often, then chefs would get a better understanding of how they could include more seasonal produce and the menus at our smaller suburban eateries would be so much more exciting.
The degustation menu was created by Executive chef, Paul Rifkin, from Campbelltown Catholic Club and his trusted off-sider, Executive Sous Chef, Cain Nightingale. Rifkin has had a long history in the Sydney restaurant scene, including a stint years ago as Executive Chef at Manor House in Balmain. Like me, many of you might well remember this popular inner city 5 star restaurant that started the likes of popular Masterchef guest, Peter Gilmore.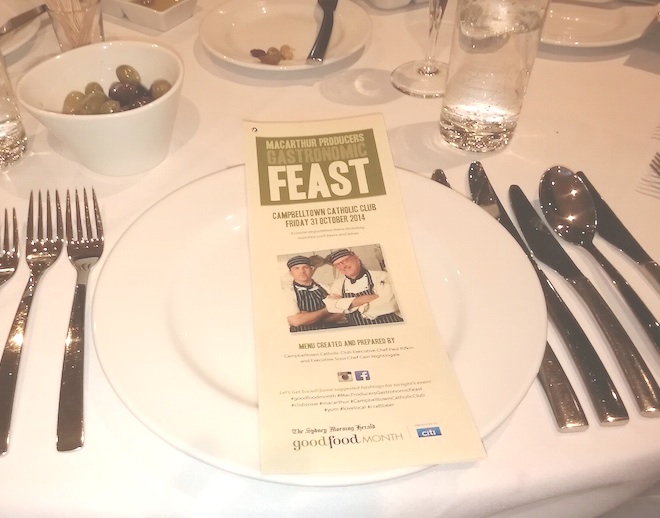 Each of the 8 courses was cleverly matched with locally brewed beers and Macarthur region wines. We often forget that Macarthur is rich in agricultural history with it's origins in the early colonial settlement. Many of Australia's popular wine districts got started with cuttings that were first taken from vines grown by the Macarthur family back in the 1840's. Sadly, Camden Park was the first of the NSW vineyards to be effected by the fateful phylloxera (a tiny aphid-like insect) that quickly wiped out many vineyards world-wide until they were replaced with resistant root stock. Interestingly, to this day, there is still no effective chemical pesticide or biological control for this pest.
Local organic produce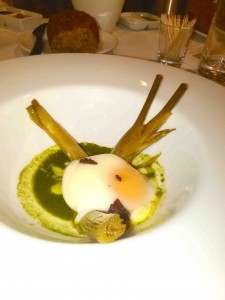 Chef Paul Rifkin gave us the run-down on each dish. It was wonderful having such familiarity with the meal designer and the chance to chat about his choices. 97% of the food eaten was local, grown organically or with minimal impact and was sourced within 30 minutes drive. The only thing left off the menu was seafood because our previous trout fishery had unfortunately gone under (so to speak). The transparency was obvious, Rifkin listed every ingredient that passed our lips – have you ever wondered just how much of that so-called local produce was really used in some restaurants? Non-local items from the pantry were declared and the true producers were there on the night to vouch for their produce. Again, it was another nice touch to have a commentary from the farmers themselves to tell us exactly what goes into their food and share their philosophy of local production.
John Fairley from Country Valley Milk in Menangle put it so beautifully saying "All I do is put it (the milk) in a bottle, I don't pull it apart like all the others …. It's going back to the way it should be." John Fairley is somewhat of a local legend being declared 2013 NSW Farmer of the Year and always a humble bloke whenever I've heard him speak, yet he's someone with some very innovative and sustainable ideas.
We were told that we couldn't fill up on the hand crafted bread before the first dishes came out. I'm so glad they held back on us because the bread was a deliciously more-ish wholemeal and rye roll with quinoa, sunflower, black and white sesame and poppy seeds. A full flavoured extra virgin olive oil and almost pasty balsamic vinegar were a wonderful dip for the bread. The handmade butter was supplied by Pine End Organics who also supplied cheeses, honey, macadamias and garlic for other dishes on the menu. Margie from Pine End runs some fabulous cheese making classes for anyone interested in learning this old craft. (She also supplies my garden with organic horse manure, but that's another story!)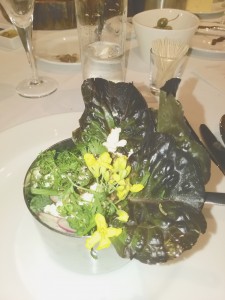 Starters included a delightfully fresh pot of salad leaves, coriander dressing and feta. This was followed by a beautiful gooey "60 minute egg" with fennel fingers, kale broth and kalamata olive paste. What struck me here was the flavour and sweetness of the veggies, chosen at baby or miniature stage to intensify the flavour. This was a good lesson for me to pick my veggies earlier and smaller for better taste and sweetness.
For mains we sampled lamb, chicken and beef dishes. The dishes were quite a surprise to me, being nothing like I imagined. It's the first time I've had lamb shank served in a glass with flowers and no gravy! Chef Paul had taken the French inspiration and created a rillette that delivered full flavour lamb accompanied by green chick peas (and I thought they only ever came in a can or dried in a packet) with some added spice of horseradish cress (I know it better as wasabi rocket) and chive flowers. Some of the diners on my table were a bit thrown by the flowers but were pleasantly surprised by their punch. I'm so glad people are getting more adventurous with their palette.
The saffron infused chicken was elevated by the ricotta ball and broad bean puree, adding a complexity to the dish that was needed. But the star of the evening was the 21 day dry aged, grass fed beef from Orangeville Pastoral Company. It was cooked simply and perfectly medium rare and served with a roasted garlic foam. I was in heaven and all on my table agreed it was the winner. The produce truly spoke for itself.
Then we had to make room for desserts, 2 of them ….. plus petit fours!
One was a real winner and one was … well, let's say … it was interesting. It was a dessert made from beetroot! Now I've even baked my own chocolate and beetroot cake before but this was a whole new level for the humble beet. According to Executive Chef Rifkin, beetroot is often used (or did he say only used) for desserts in certain places in Europe. It was very sweet but I still managed to finish it all.
What I love about Rifkin's menu is that he was not afraid to challenge us and our contented palette. Bravo for his attempts. He and the team delighted us, inspired us and challenged us to think about the way we eat, what we eat and why we eat it.
I thoroughly enjoyed this event put on by Sydney Morning Herald, Good Food Month and it is even more pleasing to see Macarthur finally put on the books as a good food destination. I'll be back next year for more of the same, and I hope that will you join me too in a celebration of our locals.