Some people will do anything to get out of mowing the lawn. This is what my friend's husband did. Tired of mowing the lawn all through summer, my friend let the pumpkins take over instead. Have a look at these photos to see how it looked before and after the vine was removed 😲. How many pumpkins do you think they harvested from a patch like this? And, more importantly, how do you know when they're ready to harvest?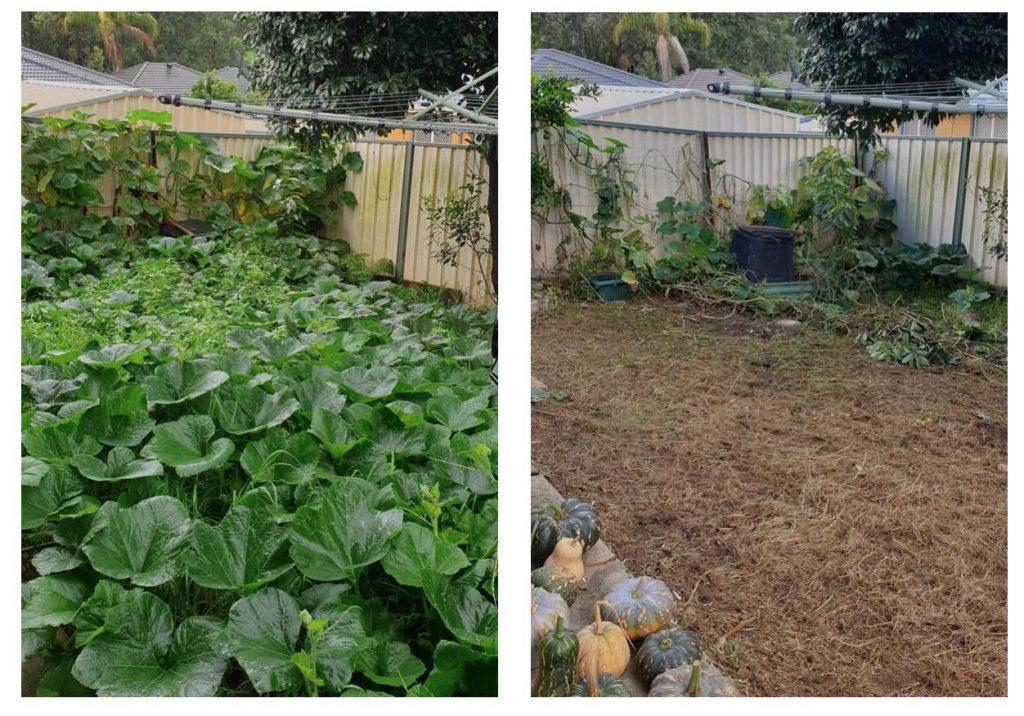 How to tell when your pumpkins are ready to harvest
It's always a bit tricky knowing exactly when to pick your pumpkins.
Here's 3 things to look for:

🎃 Your pumpkin sounds hollow when you tap it with your knuckle
🎃 The stem will be turning brown and drying off
🎃 The patch on the skin where it is sitting on the ground is pale and yellow

Some people leave them on the vine until the first frost hits their skins. This helps to harden them off.
Curing and storing pumpkins
After you harvest your pumpkins, it's important to dry out your pumpkins before storing them. This is called "curing" and it sets the flesh and hardens the skin so they won't rot. Then you'll have them for months.

Cure your pumpkins by sitting them in a sunny spot out of the elements for a couple of weeks. I did some last season on my metal barbecue under the pergola because of the heat it captured through the day.
Well there's quite a random assortment of varieties here, isn't there.
Promiscuous pollination
Did you know that pumpkins are highly promiscuous?

Promiscuous pollination rearranges the genetics of certain plants and members of the cucumber family (aka Cucurbits) are one of biggest offenders.

Pumpkins have separate male and female flowers, so if a male flower from a different variety is blooming close to a female flower of another variety, chances are they're gonna get amongst it!

When 2 varieties cross pollinate, the resulting offspring inherits characteristics from each parent and sometimes you get a real cracker.

Take a look at this one to see the result of a Butternut breeding with a Kent pumpkin. What do you think we should call this one?
Why hasn't my vine got pumpkins?
Many times we simply don't get pumpkins setting fruit on the vine. Or sometimes we might get little pumpkins forming but then they turn yellow and drop off soon after. If you want to know why this happens then find out in my blog post here about why pumpkins flower but don't fruit.
You could be eating pumpkin soup right through winter when you grow your own. I can show you how to set up your own garden full of veggies to harvest every day in my Backyard Veggies course.