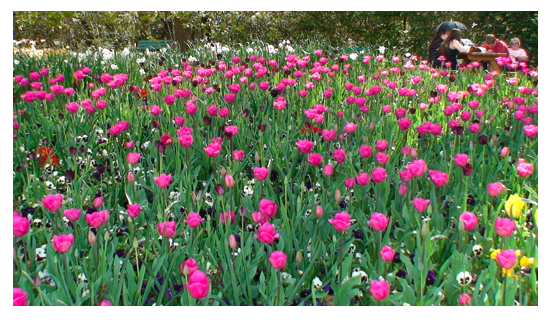 Today I'm starting a 3-part series on flower colours in the garden, showing you how different plants can create ambiance and different moods in your garden. Because Floriade is on again from 17th September, I'm using some photos that I took at last year's festival to show you some examples and to encourage you to go and have a look for yourself this year in Canberra. Part 1 starts with "romance in the air".
This year Floriade has chosen the theme "A Feast For The Senses" so today our senses get sensual!
Pink is traditionally seen as the colour of love and romance.
It is softer than it's nearby cousin, red, which usually instills stronger feelings of lust and passion.
In contrast, pink offers a sense of purity and fun in a relaxed kind of way.
Being in the cool colour range, pink can also have a calming effect, reducing tension and easing the symptoms of stress.
It is associated with trust, purity and affection.
Pink combines well with other cool colours like blue white and purple to create depth and complexity.
Pink is all about pure love.
It is gentle and feminine.
This may be why pink also works so well for reflecting a mother's love for her daughter.
Some people report to experiencing happiness and joy when they are surrounded by pink.
So why not try some pink in your garden to celebrate a budding romance or to remember an enduring love.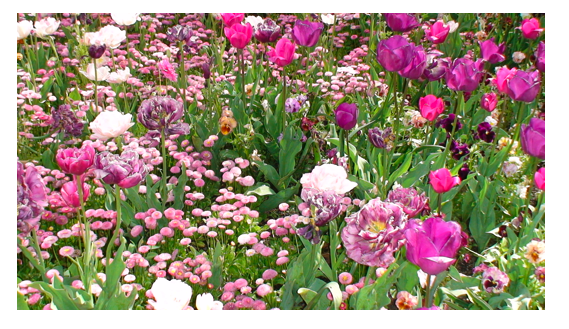 You could create a "sugar and spice" garden bed like the one obove filled with mauve and pink tulips, underplanted with english daisies and pansies.
Here's a fabulous painted wheelbarrow filled with pansies of various shades of pink that you can wheel around the garden to make a focal point in the yard.