Peace, tranquility, calm, quiet. What do you picture in your mind when you think of these words?
For me it's sitting in the coolness of a garden near a pond or lake. But the colour around you can have just as significant effect on your mood as your location.
Careful choice of flower colour in the garden can produce similar results. Just like this photo from last year's Floriade around the lake in Canberra. A monochromatic colour scheme has minimal contrast so it is softer on the senses and brings a soothing when viewed, particularly in white or blue shades.
Plants with white flowers include alyssum, roses, white iris, lilies.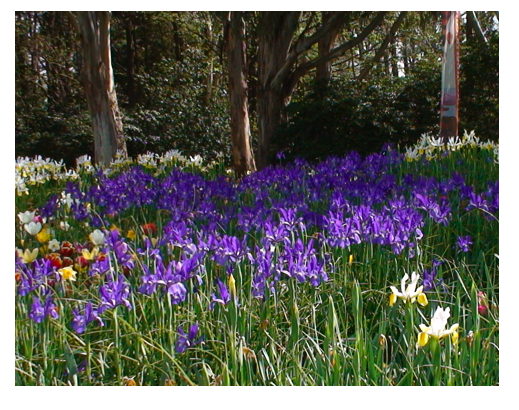 The cool shades of blue, purple, green are said to be more peaceful. For many people blue brings feelings of calm and serenity. When painting houses, interior designers often include shades of blue for calming effect for bedrooms, promoting sleep. It is reported that blue has the ability to lower a person's pulse and body temperature, bringing the desired calm for someone feeling stress.
Blue flowers that you could use in your garden are irises, bluebells, delphinium, agapanthus, dampiera, cornflower and lavender.
Purple comes from the colour blue, so shades on the cooler side also have a similar calming effect. Purple is associated with royalty and creativity. A garden with purple flowers can take the artist to a place of inspiration. Consider Monet and his waterlilies and Van Gogh and his irises.
Violets in the garden not only add the inspiration of purple colour but also bring a delicate and sweet perfume when smelt.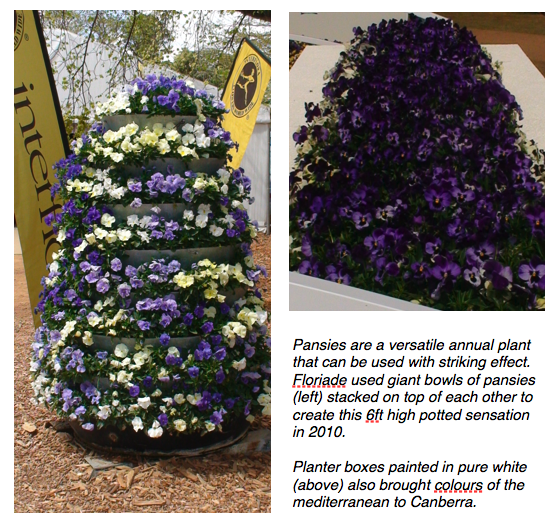 Cool contrasts work well with combinations of blue, white and silver. Blue and white are often reminders of Greek Islands and a mediterranean lifestyle with whitewashed houses in seaside villages. Memories of happy holidays may be brought into your own garden by capturing these same colour combinations.
Here, Floriade created potted features with stacked giant sized saucers filled with pansies. This stood about 6 foot high. White painted planter boxes also brought the mediterranean to Canberra.
Silver plants often have soft furry foliage so they are soothing to touch also. Plants like Lamb's Ears are unforgettably tactile, being incredibly soft to touch. Use silver plants along a path to reflect the moonlight at night and help any garden visitors with poor eyesight to stay on the path.