You don't need a 5 acre property or even a backyard to grow your own produce. Surprisingly, quite a lot can actually be grown in pots or containers on a sunny balcony, not only providing you with fresh organic herbs and vegetables, but also saving you money.
You can grow leafy vegetables like lettuce, spinach and herbs in foam boxes recycled from your local green grocer very cheaply. Tomatoes, capsicum and eggplant are better grown in individual plastic pots about 30cm (12 inches) diameter.
Mini or dwarf cabbages and broccoli are also terrific in containers too. Climbing plants like beans, peas and cucumber will need a trellis to support them, so put them into a deep trough pot near your balcony railing and let them climb up the rails.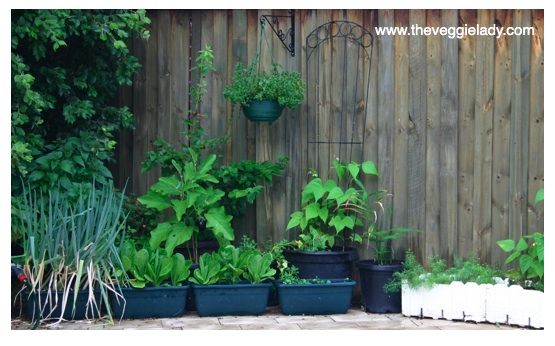 Don't forget about fruit too. Some fruit trees have been grafted onto dwarf rootstock to reduce their overall size making them ideal for pots. The fruit isn't affected and you'll get loads of full sized oranges, lemons, apples and stonefruit. Some tropical fruits including guavas and tamarillos are shrubs and will also grow well in a large pot or container.
There are some tips for successful container gardening. Stick to these and you'll be eating your own home grown produce in no time.
Sunlight
You'll need about 6 hours of sunlight for your balcony garden to be really productive. If yours gets less than that, you could probably stick to leafy crops that are more reliant on moisture than sun instead of trying to grow fruiting plants.
Premium Potting Mix
Buy the best certified organic potting mix to get the most from your plants. Good quality mixes have nutrient rich compost, minerals, micro-organisms and organic materials that prevent drying out. Without these your plants will struggle.
Water Consistently
Don't over do it or under do it! Get to know your plants, see how the soil feels and aim to keep it cool and damp. The exact amount of water will vary from balcony to balcony and even from plant to plant.
Liquid Feed
Don't forget to feed your plants. The more watering you do, the more you'll leach nutrients from the soil. So it's important to replace what your depleting. A natural fish emulsion may be a bit smelly for a few days but it's terrific for veggies.
When you've outgrown your balcony and want to grow even more vegetables then check out some community gardens or allotments in your local area. Most local council governments support these community projects and it's a great way to meet other like-minded people and swap ideas as well as produce.