I'm eating my way through a packet of dry roasted and salted macadamias as I tap out this story on the keyboard and I'm having a hard time getting on with it because their SOOO delicious! Macadamias are my absolute favourite nuts to eat, so when I heard that a visit to a macadamia farm was included in my recent Food Trail Tour of the Atherton Tablelands in Tropical North Queensland, I was chuffed.
We arrived at Greg and Wendy O'Neill's farm aptly named Wondaree Macadamia Nuts (I'm informed that Wondaree is a word used by North Queensland Aborigines meaning "trees"). The scene is lush and inviting but another tropical downpour is looming heavily upon us.
Farmer Greg jumps on the bus with us to give us the "good oil" (literally) on growing macadamias. I notice the bee hive at the entrance to the farm used for pollination and no doubt some honey too. Greg notices I'm writing on my notepad as he speaks; he is warily cautious and jokingly threatens that anyone taking notes won't be allowed to leave the farm alive. I explain who I am and that I'm in town with the Australian Institute of Horticulture then I boldly ask if he has any tips for the home gardener. Realizing I'm not out to steal his secrets for commercial production, he relaxes and is very forthcoming with some tips and pointers for us home gardeners.
I'm immediately taken with his approach to farming and even more so as he goes into his strategies for Integrated Pest Management. He's a kindred spirit …. I knew it as soon as he mentioned the field we passed on the way in was being used for experimenting with improved pasture and cattle.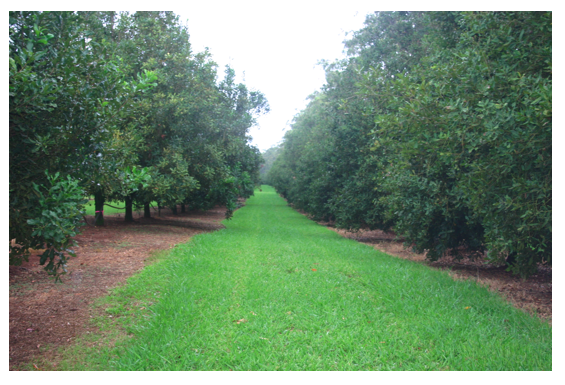 Although the macadamia tree can grow to 20 metres (60 feet) high, with careful yearly pruning they can be limited in size, making them a good choice as a productive shade tree for a reasonable sized home garden. They are vulnerable to frost so cultivation would only suit frost free temperate to tropical zones. You will need rich well drained soil for best results. A good supply of nitrogen and potassium are needed to produce quality fruit. Addition of chicken manure and compost before planting and as a regular side dressing throughout the growing season is recommended. Being an Australian native plant it has adapted to low levels of phosphorus so be careful using any fertilisers high in phosphorus.
Greg points out that the Macadamia tree has a very fine fibrous root system that is vulnerable to drying out, so tip number one is to grow it with regular irrigation and a good layer of mulch in the home garden. Lucerne is a good mulch that adds nitrogen as it breaks down; a layer at least 5cm (2 inches) deep is needed around the drip line of the tree to keep moisture in and weeds out.
Keeping the weeds from competing for water and nutrients is essential for increased vitality of the tree and to maximize crops. This is particularly important from the time the tree is in flower until the full oil production is reached in the fruit/nut. Oil production in the fruit will take up to 3 months after initial fruit has been set.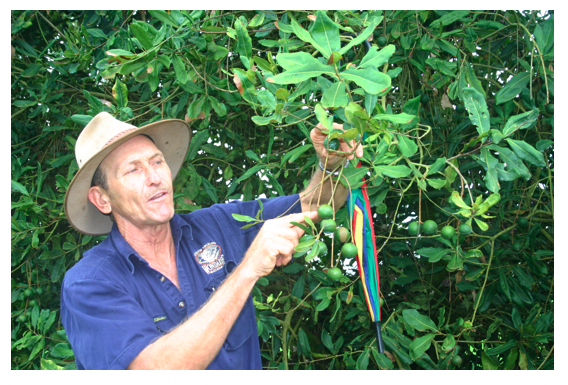 During this fruit development time, Greg keeps a keen eye on the available nutrients taken up by the trees. He does this through regular leaf testing which indicates any deficiencies that might affect the fruit. To remedy any deficiency, regular foliar sprays are applied to the orchard. So tip number 2 for the home gardener is a fortnightly liquid feed of worm juice and fish emulsion. Mix in some seaweed solution to help stimulate growth and protect against pests at the same time. A liquid feed will provide some additional nutrients while the tree is in its most active stage and avoid any deficiencies that could potentially affect the developing fruit.
I ask Greg about pest and disease problems that he encounters on the farm. He admits that they do have some problems with nut borer and weevils. Their practices have changed over the years with the current trend involving Integrated Pest Management. Greg explains that they use organic techniques as much as possible without aiming for certification. Previous routine spraying with insecticides has now been replaced with biological methods, introducing native parasitic wasps to help control many pests naturally. The new economics showed that the financial cost of spraying actually proved to be more than the cost of any crop lost using the new biological controls.
Tip number 3 for the home gardener is to encourage beneficial insects into the garden through companion planting, using lots of flowers that attract parasitic wasps in particular. Wait for the predators to come before resorting to chemical warfare. Growing companion plants that add nitrogen around the trees is also beneficial for plant growth.
A macadamia tree is an investment, as are many fruit and nut trees, taking 5 years after planting a grafted specimen before the tree produces a significant crop. It is considered "mature" only after 10 to 15 years.
The old-fashioned harvesting roller is demonstrated with our tour group, picking up the green nuts that have fallen to the ground. The nuts will fall naturally when they have matured. The husk is still green to brown and encases the nut inside. On the farm they are harvested using machinery but can be collected by hand in the home garden as they fall off the tree. The husks on the farm are cracked to obtain the nuts then the husk is processed and returned as mulch under the trees. It's a good display of closing the system.
The nut is graded according to size and then cracked open again to reveal the small kernel inside that we eat. Plant breeding has increased the size of kernel weight from 15 percent to 50 percent now in some of the modern cultivars, which means much bigger macadamias for us to eat.
Now the fun starts … taste testing!
Wondaree Macadamia Nuts offer a range of flavored products, from natural raw or lightly salted macadamias to the tasty hickory smoked nuts.
Macadamias contain no cholesterol as they are a natural plant food. They are not genetically modified and only contain natural genes. Macadamias do not contain any trans fatty acids. Research has shown that macadamias can help lower blood cholesterol levels and may reduce the incidence of heart disease. They're high in fibre, very high proportion of monounsaturated fat, contain no cholesterol, contain vitamins, minerals and protein essential in a healthy diet ….
AND they taste great, too!